Kid Appetite: Hunger Signals and Feelings of Fullness
August 31, 2020
The kid appetite is a primal force, telling him it's time to eat. If left unattended, it can create an unhealthy array of habits and eating patterns that may influence your child's weight status.
Learn how children experience hunger and fullness, the appetite hormones, and ways to honor your child's appetite.
Born with a Sense of Hunger and Fullness
We are born with a natural sense of hunger, an ability to recognize it, and a desire to quench it pretty effectively. Babies expressly tell us when they need to eat: They cry.
Toddlers tell us by whining, melting down, or throwing tantrums. Children coming home from school may tear into the refrigerator or pantry, "starving" and desperate to eat.
By adulthood, folks generally have figured out how to manage their appetite. Some respectfully honor their body's signals and eat when the telltale signs emerge.
Others use strategies to help them manage their hunger and their weight. Some are healthy techniques and some aren't.
Hunger Signals: Kids Eat When They're Hungry
In my observation, children are not inclined to use the delay tactics and strategic distractions common to adulthood management of appetite.
Hunger, for many children, is powerful. When children feel hunger, they seek food.
Part of this is because children are in a dynamic process of growing. Growth prompts hunger which initiates eating.
Ever hear of the teenager that won't stop eating? How about your friend, the mother of that teen, who is off to the grocery store every two days, just to keep the kitchen stocked?
The Signs of Hunger & Fullness
We all experience hunger and fullness differently. Some of us get a headache when we're hungry. Others get cranky. Fullness can vary from person to person, also. One might get sleepy while another may feel distended and uncomfortable.
Common Signs of Hunger in Kids
stomach growling
headache
fatigue
low energy
mood swings
Common Feelings of Fullness in Kids
distended belly
feeling tired or sleepy
impaired movement
feeling ill
generalized discomfort
The Appetite Hormones
The child appetite is mostly regulated by hormones and nutrients. Nutrients act on the gut and hormones signal areas of the brain yielding feelings of hunger or fullness.
When the body perceives there is enough energy, it fires off signals that suppress appetite. When it senses we haven't eaten enough or we have low energy stores, it signals hunger.
Two hormones, ghrelin and leptin, are the main hormonal appetite regulators.
Hunger begins with a dip in blood sugar after a period of time has passed without eating. This alerts the brain to tell the stomach to secrete the hunger hormone, ghrelin. Ghrelin increases appetite. It tells the brain it's time to eat. Ghrelin is mostly made in the gut.
Leptin, the other main kid appetite hormone, is made by fat cells. Leptin circulates in the bloodstream and tells the brain you have enough energy and fat to do everyday activities. In other words, it tells the brain you're full and decreases appetite signals.
However, leptin can be a trickster. When leptin levels decrease, like when you lose weight or don't eat enough, it tells the brain you're starving. This message stimulates the body to drive leptin levels back up, which spurs ghrelin and a sense of hunger, leading you to eat more and raise leptin levels back to your personal norm.
Why Do Kids Get Hangry?
Intense hunger, or being over-hungry (hangry), can occur as a result of long stretches without food, meals that don't provide enough energy, or an improper balance of nutrients.
Just as a car without gas sputters down the road until it eventually stalls, likewise our bodies drag along, tired and unfocused when nutrition is inadequate.
If your kid's hunger is ignored or put off, it can cause havoc in her ability to regulate her eating patterns. Unsatisfied hunger can build, causing overeating and inappropriate food choices.
Physical Hunger versus Head Hunger (I think I'm hungry)
I like to make the distinction between physical hunger, which I described above and of which is led by hormones and nutrient interactions within the body, and head hunger.
Head hunger is when you think your hungry. This happens a lot with kids. Researchers call it Eating in the Absence of Hunger and it generally means eating for other reasons like boredom or emotional regulation.
What About Appetite, Eating and Weight?
For the child who struggles with their weight, overzealous techniques to control or reduce it, such as food restriction, dieting, skipping meals or snacks, or beginning a vigorous exercise plan may backfire, leaving a child hungry and eventually causing her to overeat.
Also, when kids rely on head hunger instead of physical hunger to cue eating, they may overeat. This happens because they're out of touch with their appetite, relying on external cues to eat.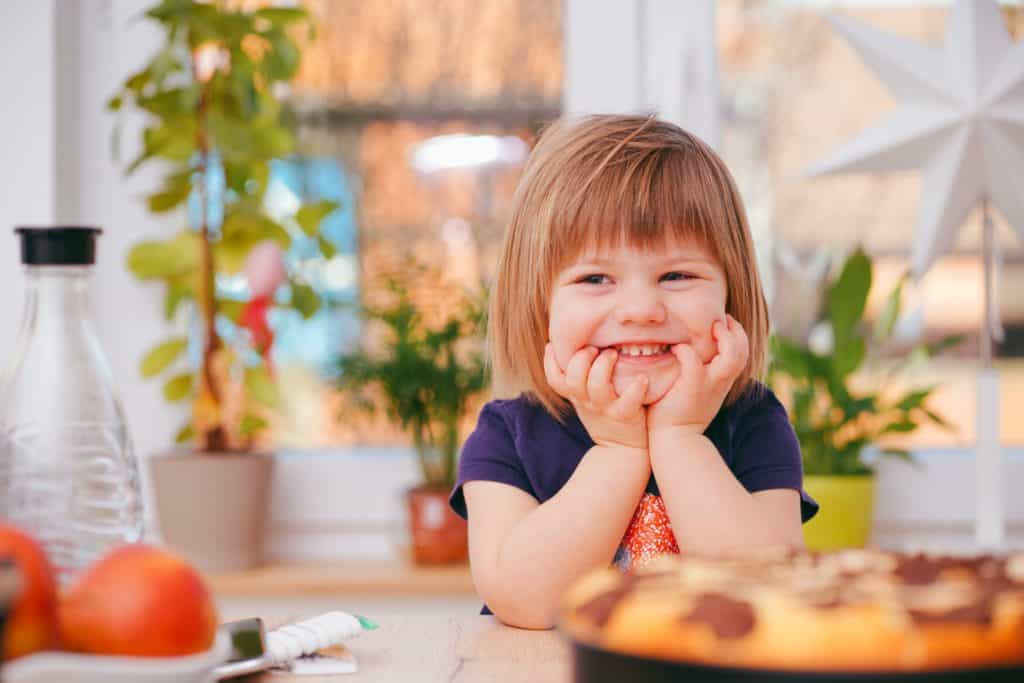 5 Ways to Honor a Child's Appetite
Your kid's appetite is something to understand. In a perfect world, you wouldn't have to manage it. Your child would be tuned in to hunger and fullness, eating accordingly. But for some kids, that's just not the case.
They eat when they're not physically hungry and keep eating after they're full. Appetite regulation can be all messed up!
Here's how you can support your child and his appetite:
1. Respect Growth and the Kid Appetite
Growing children are hungry. But, eating may be erratic and unpredictable. Keep a schedule with eating, so your child has access to food if he's hungry. Don't push him to eat more or stop him from eating enough. And don't create open access to food all day.
Remember, restricting or controlling your child's food intake may actually cause him to overeat later on.
2. Stay Ahead of Hunger & Respect Fullness
Plan your meals and snacks to occur every 3-4 hours. Skipping can be a trap for overeating later on.
If your kid is full, let him stop eating. Don't make him finish his meal or take a certain number of bites of food. This makes it even harder to regulate his appetite.
3. Induce Satiety: Use Filling Nutrients
The nutrients fiber, fat and protein encourage fullness so it's a good idea to make sure meals contain these nutrients.
Offer 100% whole grains, fruits, and vegetables for fiber. Use sensible amounts of low fat dairy products and lean meats, eggs, nuts, and beans to pump up the protein and also promote fullness. Likewise, avocado, nuts, seeds and healthy oils help induce satiety.
4. Start the Appetite Cycle: Load Up Early
A nutritious breakfast starts the body's "engine" and sets the pattern for eating at regular intervals. Kids who skip breakfast may find themselves hungrier after school and at dinner time.
5. Power Up Snacks
Offer power snacks. These include a source of protein for a satisfying, "stick to your ribs," hunger-defying snack.
Let the Kid Appetite Lead the Way
The goal is to raise a child who can recognize his appetite cues and act on them appropriately: Eating when hungry and stopping when satisfied.
Remember: A "starving" child will eat. It's up to you to have a strategic, healthy plan in place.
If you find your child is always hungry, or never full, he will have a hard time regulating his eating.
If you can help your child learn about appetite, hunger and fullness, and trust him to manage it, he'll grow up with a skill that will serve his health well.
What do you notice about your child's appetite?
Need More Help?
Tune in to my interview with appetite expert, Dr. Alison Miller for more information about how kids develop appetite regulation.
Check out my classes, mini-trainings, workshops and guidebooks at TheNourishedChild.com!
Originally published in January 2010 | Updated in July 2021